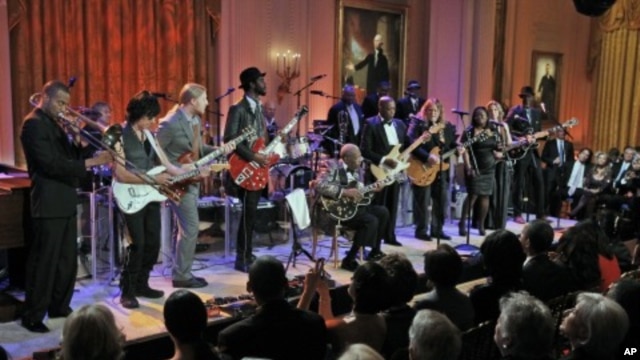 Red White & Blues
White House Blues (
"In Performance at the White House" series)
set list:
1. "Let the Good Times Roll" (Ensemble)
2.. "The Thrill Is Gone" (B.B King)
3. "St. James Infirmary" (Trombone Shorty)
4. "Let Me Love You Baby" (Buddy Guy, Jeff Beck)
5. "Brush With The Blues" instrumental (Jeff Beck)
6. "I Can't Turn You Loose" (Mick Jagger)
7. "Commit A Crime" (Mick Jagger, Jeff Beck)
8. "Miss You" (Mick Jagger, Shemekia Copeland, and Susan Tedeschi,)
9. "Beat Up Guitar" (Shemekia Copeland, Gary Clark, Jr.)
10. "Catfish Blues" (Gary Clark, Jr.)
11. "In The Evening (When The Sun Goes Down)" (Gary Clark, Jr.)
12. "Henry" ( Keb Mo)
13. "I'd Rather Go Blind" (Susan Tedeschi, Derek Trucks, Warren Haynes)
14. "Five Long years" (Buddy Guy, Jeff Beck, Gary Clark, Mick Jagger)
15. "Sweet Home Chicago" (Ensemble)
In welcoming the crowd to the White House, President Obama talked about the origin of the blues:
This is music with humble beginnings -- roots in slavery and segregation, a society that rarely treated black Americans with the dignity and respect that they deserved. The blues bore witness to these hard times. And like so many of the men and women who sang them, the blues refused to be limited by the circumstances of their birth.

The music migrated north -- from Mississippi Delta to Memphis to my hometown in Chicago. It helped lay the foundation for rock and roll, and R&B and hip-hop. It inspired artists and audiences around the world. And as tonight's performers will demonstrate, the blues continue to draw a crowd. Because this music speaks to something universal. No one goes through life without both joy and pain, triumph and sorrow. The blues gets all of that, sometimes with just one lyric or one note.